A Site Rich in History
Located in London's only designated Cultural Heritage Landscape, the Westminster Ponds Centre has a long and interesting history.
Archaeological exploration in the Westminster Ponds and Pond Mills areas have uncovered artifacts from First Nations sites that date back as far as 2500 BC. The region was travelled and inhabited by First Nations peoples over time.
The WPC is located on the traditional territories of the Attawandaron, Anishinaabeg, Haudenosaunee, and Lunaapeewak peoples—peoples and Nations who have longstanding relationships to the land, water, and region of southwestern Ontario. With such a rich history, we are guided by a mission of environmental sustainability, education, outreach, and the restoration of biodiversity. 

European settlement in the area began in the early 1800s and by 1820, Pond Mills was a thriving settlement. In the early 1900s, W.E. Saunders purchased approximately 80 acres of land surrounding and including the ponds. Saunders had a special interest in conservation and for over three decades, he and other members of the McIlwraith Ornithological Club (now known as Nature London) taught visitors about the ponds, birds and conservation. Since the late 1900s, Nature London has played an active role in advocating on behalf of the natural features of the Westminster Ponds area.

In 1946, just after WWII, the Western Counties Health and Occupational Centre was built by the Department of Veterans Affairs to serve as a recovery centre for veterans, because it was recognized even then what a powerful role a natural environment can play in recovery.

The design of the site is one of cottage-like pavilions built in a park-like setting. This property contained a total of 11 buildings, which were called pavilions; and was one of seven such sites across Canada. It officially opened on November 15, 1946 with six patients and at its height, it housed just shy of 200 patients. Over time, the centre grew to focus on providing occupational therapy and long term care for veterans and was renamed the Western Counties Veterans Lodge. 

In the 1970s, 200 hectares of natural area was protected as an urban conservation area. In 2001, additional land was donated by London Health Sciences Centre (LHSC) and St. Joseph's Health Care, and Westminster Ponds became the city's largest Environmentally Significant Area.
In the late 1980s the residents of the Western Counties Veterans Lodge were moved to a newly built facility at Parkwood Hospital. LHSC and the Board of Education used several of the buildings throughout the 1990s and early 2000s. Eventually several buildings were demolished. We are lucky that four of these buildings remain – the Wellington, Bruce, Huron and Perth, as well as a gatehouse.

In the 2010s, the site was designated a Cultural Heritage Landscape. At that time, a variety of community organizations were operating out of the space. LHSC eventually decided to divest its remaining portion of the Cultural Heritage Landscape. In 2016, ReForest London stepped forward with a bold vision to establish a new Environment and Sustainability Centre for London and area on this 14-acre site. For several years now, work has been underway to restore buildings and bring this remarkable new community asset to life!

The Wellington, the architectural jewel of the Westminster Ponds Centre, was built to serve as an administration building, dining room and contain recreational facilities. It is a 9,000 sq. ft. frame building with clapboard siding and contains design elements such as the beautiful roof ventilator and the entrance surrounds with fanlight and sidelights. This beautiful building is slated to become a community destination and centrepiece of the Westminster Ponds Centre for Environment and Sustainability.

The Bruce Pavilion is now home to the offices of ReForest London, the London Environmental Network, Thames Talbot Land Trust, Urban Roots' winter growing operations, and the newly renovated, well-equipped Volunteer Training Centre that can be rented for meetings, events and retreats.

The Huron is now home to the Thames Valley District School Board's H3-ELP program. This environmental leadership program is for grade 10 students to learn here on site for a full semester, while earning 4 high school credits. It's a great way to connect with a passion and develop leadership skills, while learning from industry professionals within the environment sector. The Huron is also used by Childreach's Wild Child program.

The Perth, seen above in 1946, is soon to be renovated. It was one of eight pavilions used as dormitories all of which were similar in design and size of about 4,100 square feet.  A wood panelled living room with doors out onto a veranda and an impressive stone fireplace gave a home-like character to the dormitories which also consisted of an entry hallway, wards, washrooms and a supervisor's study and office.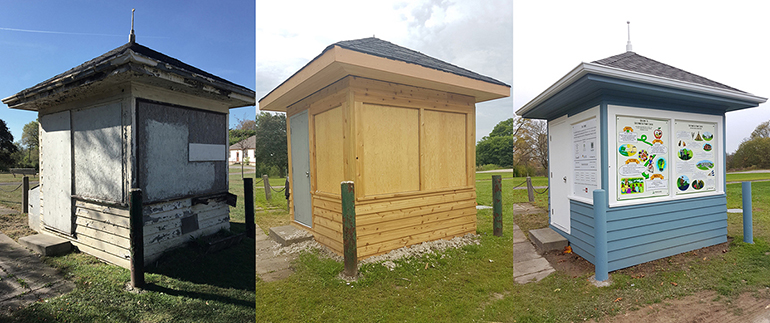 The gatehouse at the entrance to the property was restored in 2019 and now displays signs explaining the property's history, including that of the First Nations and veterans, as well as the exceptional natural heritage found within the Westminster Ponds Environmentally Significant Area. The Westminster Working Group hosts a snowshoeing program for site visitors from here in winter. 
The two baseball diamonds on the property are used by London Hospitals Co-ed Slopitch League during the spring and summer. The first baseball diamond on site was constructed in 1946 for the veterans to enjoy.
Photo credits: 
Colour photographs: ReForest London
Black and white archival photographs (top to bottom):
-Three buildings in 1946, left to right: Waterloo, Wellington and Perth, Western University Archives, LFP 1946-11-16.
-Man in Boat on Walkers Pond, Western University Archives.
-First six veterans at the Western Counties Health and Occupational Centre, Western University Archives, LFP-1946-11-16
-Architectural drawing of the Huron Pavilion, Library and Archives Canada, Courtesy LHSC.
-The Perth Pavilion in 1946, Western University Archives, LFP 1946-11-16.